SOB Latest Packages
SOB have added a lot of new packages to their site this week. Listen!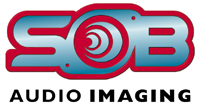 ABC 2008 was created for legendary Danish CHR station Radio ABC in Randers. Kim Nielsen, Radio ABC's imaging producer, insisted that we made something different. Something unique. Something that doesn't sound like all the other jingle packages. But without drowning the music with the all-too-obvious laser effects, noises, beeps and bangs. He wanted CHR jingles that would have a credible sound and a very musical feel, without the standard 7-voice jingle choir. So… that's what we made him!

Radio Mojn 2008 was originally created for Radio Mojn and its sister station Radio Skive in Denmark. It has a powerful, hip sound ánd the Z-100 logo that suits today's Hot AC and CHR stations who want to push the limits with their station imaging! The package has 15 cool cuts that will give your station the extra edge it needs!

Solo FM 2008 is an AC package with a distinct, classy sound with a contemporary touch and a rich, full choir. Custom made for Denmark's Solo FM. It contains 15 cuts in a wide variety and of course loads od extra versions: most cuts offer long, medium and short versions. For some cuts, we also made special "light" (unplugged) versions to give you an extra bang for your buck!

Spanish Aragon Radio, based in Aragon's capital city Zaragoza, was in search for a fresh new jingle package that would take the Hot AC/Full Service public radio station to the next level. So we created a new sound logo for them that sounds contemporary, uplifting and yet authoritive. And we composed a package that has long, 30″ basic cuts that can be used to deliver lots of information or set the musical tone. To make the cuts ultra-useable, we created loads of different lengths (medium & short versions) so the package gives you an extreme degree of flexibility.

4 phat, pumpin' dance cuts, created by SOB's French production team for Slovakia's Mojeradio.sk Radio Dance. The happy vocals make this package fit perfectly with Radio Dance's international playlist. The music was created by SOB composers in Paris who gave the package that warm, melodic and thrusting feeling we know from the French house scene!

Created for Slovakia's Mojeradio.sk, these 4 cuts incorporate all the sounds from today's R&B hits: soulful beats, smooth pianos, classy strings and a brilliant vocal that feels like a combination of Rihanna, Beyonce and Alicia Keys!

If your station's playlist contains artists like Alice Cooper, Toto, The Stones, Deep Purple, AC/DC and Aerosmith, this is the package you need! Produced using vintage guitars, amps, speakers and Hammond B3 to ensure the authentic sound of the songs you're playing!

Put on your dancing shoes and boogie down! These jingles will make you dance, no matter how you feel or what you're doing. Think The Trammps, Gloria Gaynor, Barry White, Chic, The Jacksons, and you're right on target!

Remember those great hits from Rick Astley, Phil Collins, Pet Shop Boys? Cool synthesizers, drum computers and sa-sa-sa-samples reigned the pop charts, and so did rock bands with tight pants and poodle hair cuts! Here's 4 cuts we made for Mojeradio.sk's Retro 80's station.

Think 60's, Motown and rock 'n roll, and you've got the sound of this cool package! 4 cuts, originally created for Slovakia's Radio Oldies, which can be found on Mojeradio.sk. Want more than 4 cuts? Let us know and we'll create more for you!

Like every year, a summer update was created for Spain's Los 40 Principales jingle package. This time, the station wanted us to produce some very contemporary cuts that would fit perfectly with specific artists and hits from their playlist, like Beyonce, Bob Sinclar and some Spanish artists. Summer couldn't sound sunnier than these jingles!