Rhythmixx from SOB
Following on from N2Effect's release of 'Street Kiss 2005 Denver' last week SOB have released their own Rhythmic CHR jingles.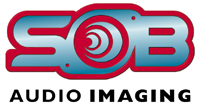 Programmers for Urban or Rhythmic CHR stations can end their search for jingles! Until now, there wasn't a single package that would fit that very specific format. But now, your search has come to an end! SOB presents: Rhythmixx and Street Kiss '05!
The guys at SOB are huge Rhythmic & Dance fans, frustrated with the fact that there was not a single package out there that really reflects those music genres. So they decided to work on a package that would work for a CHR station that plays lots of Dance and Urban music like R & B and hip-hop. With lots of energy, phat flavas and cool, genuine vocals. And you know what? They're still working to expand the package! In the meantime, you can listen to an advance preview demo. So if you're doing Dance CHR and you don't need the Urban cuts, just drop them and there will be extra Dance cuts for ya! Or vice versa: if you don't want the Dance stuff because you're an Urban station,: drop the Dance cuts and we'll provide you with more of the jingles you CAN use! Ah, life can be SO simple!"
You can check out these two new jingle packages NOW in their "CHR jingles" section!