Top 40 Oifigiúil na hÉireann 2009
The PPI Radio Award winning Top 40 Oifigiúil na hÉireann is the official music sales chart for Ireland, compiled weekly from music sales nationwide by Chart-Track for IRMA, the Irish Recorded Music Association.
Top 40 Oifigiúil na hÉireann is produced by Digital Audio Productions in Dublin and is broadcast weekly on Beat 102-103, East Coast FM, Red FM, Spin 103.8, Spin South West, Galway Bay FM and several more Irish stations.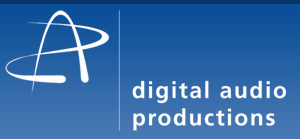 The show is presented in Irish and has all the values and more that you would expect from an English language version.
We have custom sung jingles (sung by Robbie Williams backing singers!), CHR style ID package and play the hits hot and hard.
The jingles are from various Music 4 packages.
Our host Daithi O'Daibhin uses simple school standard Irish during his short tight links between the hits. It's surprising when you listen how much you actually pick up. In fact we put this to the test when we played the show in London and France to total non-Irish speakers who got the concept, enjoyed the more music format and loved the show.

They're not the only ones. The judges at the PPI Radio Awards loved it and honoured us with the Award for "Music Programming Specialist".
For stations that want to broadcast this weekly chart show, contact Dusty Rhodes at Digital Audio Productions now.
"Top 40 Oifigiuil na hEireann is an essential part to our Saturday night schedule. The production, music and presentation is fantastic, Galway Bay FM is delighted to have it part of our output." – Padraic Flaherty, Program Controller, Galway Bay FM
Top 40 Oifigiúil na hÉireann 2009 | .6MB – 1:32

And, as a bonus, have a listen to the old Top 40 Oifigiúil na hÉireann jingles from 2005 | 2.17MB – 1:53