Kissville January 2008 Update
Hey Dudes,
Happy New Year!! Hope you had a wild one, welcome back to the grind!!
Good news is, we've got new jingles for you! More powerful audio to keep your station sounding fresh in 08!
So go grab that zip file, and start using these babies…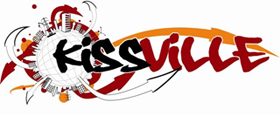 THEME 27 – by request, a rocky theme to use into those boy-band-type songs with guitars all over em… all the usual edits of this. the drum mix isn't just drums, it's a cool lite version of the main ramp, in case it's all gettin a bit heavy for ya!! there's also a NANOjingle, and the logo by itself for you production dudes.
THEME 28 – this is where chr goes a bit hip hoppy, but without forgetting what it's doin. big beats, loud logos and strong sings. we like this one!
TIMER 01 – This is something weve not done before, but it's fun!! it's a 60″ timer bed for use in your big contests. kewl thing is, it starts and finishes with your logo so it fits in with everything else on ya station. Hey, if a 30″ version would also be useful, mail me and i'll get it in next month's!!!
PRODBED 09 – Another prod-bed for you to f**k around with! promos, live with jocks, whatever ya want. we listened in to one station last week that's cut em down and use them as extra jingles!! more of these next month too.
SWEEPID 11 & 12 – More sweepIDs as well… lemme know if you like em. want more? Don't use em? email me!!
So grab that zip file and throw em on the playout system 🙂
Kissville January 2008 Updates | 1:41 – 3.87MB | Download

Finally…

Don't forget Litehouse! The guys and girls in the next room are doing loads with LITEHOUSE – it's the AC equivalent to kissville. their update goes out next week (were ahead of them haha!) so if youve got an AC station in your cluster, send em to www.litehousestudios.com – it sounds good.
how are your resolutions? mine woz to keep the speakers turned down… broke that on day 2!!!
peace,
smoochie x
PS – remember, email me with what you want in the next updates… were here to please!
EXTRA, EXTRA
And if you missed the November and December updates you can download a montage right here…
Kissville November 2007 Updates | 2:08 – 4.86MB | Download

Kissville December 2007 Updates | 2:17 – 5.23MB | Download